Events
The Soutron Global team hosts and attends many events throughout the year.
AALL 2019 Annual Meeting & Conference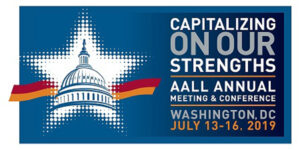 Soutron Global is pleased to announce our attendance at the 2019 AALL Annual Conference.
Connect with your peers to gain perspective only they can offer, and connect with providers of the tools and services to keep you at the top of your game.

– AALL 2019 Conference
The team will be in Washington, DC from July 13th – July 16th. AALL's theme of "Capitalizing on our Strengths" is a great way to celebrate innovators! It highlights the skills, talents, and attributes that provide added value to ourselves and our colleagues.
Join us at Booth #607 and say "Hello!" – we can't wait to see you there!
Seminar Details:
Dates: Saturday, July 13th – Tuesday, July 16th
Venue: Walter E. Washington Convention Center Washington, DC
Click Here to Register for the Conference.
For more information on the AALL 2019 Annual Meeting & Conference website.
Check back soon for more upcoming events!
SLA 2019 Annual Conference in Cleveland, OH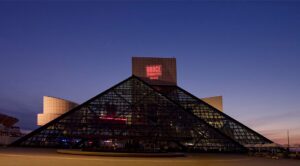 Soutron Global is pleased to announce our attendance at the 2019 SLA Annual Conference.
The Soutron Global team will be joined at our booth, #214, by our close friend and associate, Guy St. Clair, of SMR International during this year's Information Expo.
Guy will be honored on Sunday, June 16, 2019, with the John Cotton Dana award, SLA's top honor!
Visit our Booth #214 in the Information Expo for a Chance to Win and meet the man of the hour!
Seminar Details:
Dates: Sunday, June 16th to Tuesday, June 18th.
Venue: Huntington Convention Center of Cleveland
Click Here to Register for the Conference.
For more information on #SLA2019 visit SLA's Annual Conference website.
Did you miss seeing our warm up to #SLA2019 video? Fear not! You can watch our short video clip here.
Below are some pictures from the 2019 Annual Conference. Click on the Arrow buttons to peruse the Gallery or click on the picture to zoom in:
Soutron Global Exclusive Webinar – Copyright Laws and Leadership with Lesley Ellen Harris  – January 22nd, 2019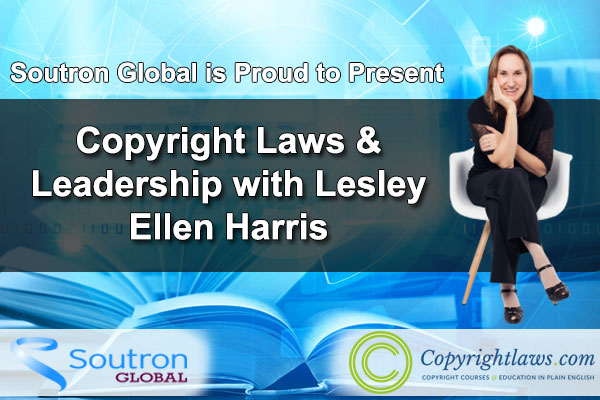 Soutron Global is proud to have Lesley Ellen Harris of Copyrightlaws.com as our January webinar Guest Speaker!
Life is complicated enough today. Trying to figure out how copyright laws affect your business, library or information resource center can feel like a daunting task. But what if we told you copyright could be as simple as checking your email?
Join us as Lesley reviews how high-quality current copyright information, interaction with like-minded individuals and takeaways such as reference materials and several tools can improve your professional value and make your tasks less daunting.
If you're the Go-To Copyright Person or want to more confidently answer copyright questions, the Copyrightlaws.com's Copyright Leadership Certificate program is perfect for you.
By participating in Copyrightlaws.com's Copyright Leadership Certificate, you'll be able to:
Describe U.S. copyright law principles
Explain global copyright law on a practical level
Know when and how to obtain copyright permission
Provide quick answers about copyright law and licensing digital content
Develop best practices for lowering copyright risks in your library or organization
Attendees will receive a 10% off promotional code for the Copyright Leadership Certificate Program!
For 20 years, Copyrightlaws.com has been the go-to resource for copyright courses and education in plain English. Don't miss this opportunity!
Webinar Details:
Date: Tuesday, January 22nd, 2019
Time: 2:00pm – 2:30pm Eastern, 11:00am – 11:30am Pacific
Venue: GoToWebinar
Register on our webinar registration page, as there are limited seats available. You will receive a GoToWebinar invitation with instructions in a separate email prior to the session.
For more information on the Copyright Leadership Certificate program visit Copyrightlaws.com.
You can also Register for the February 2019 Copyright Leadership Certificate program on EventBrite.
If you enjoyed these events, Click Here to see more Past Soutron Global Events.
Check back to find out what we will be attending next! You can also visit our Calendar for more information on future and past events or Contact Us.