Events
The Soutron Global team hosts and attends many events throughout the year.
Soutron Global Exclusive Webinar – Tips on Writing Your Copyright Compliance Policy: 7 Essential Tips with Lesley Ellen Harris – September 5th, 2019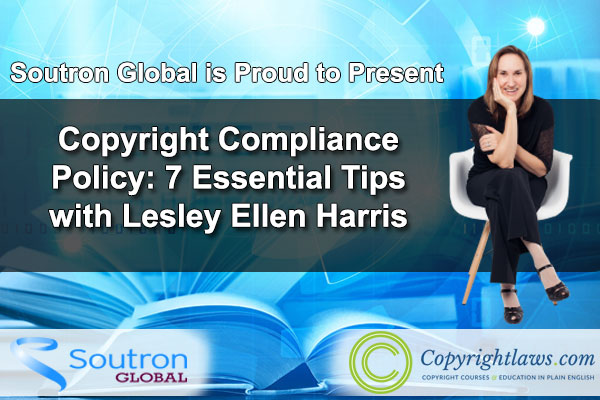 Soutron Global is proud to have Lesley Ellen Harris of Copyrightlaws.com as our September webinar Guest Speaker!
Copyright laws affect everyone in today's digital age. Knowing how to put together guidelines or a full copyright policy is a great way to help your organization and increase your value. Learning how to create this policy is as easy as listening in to our expert guest speaker!
Join us as Lesley Ellen Harris discusses "What is a copyright policy?" and "Why each organization should have a written policy."
During the webinar Lesley will also review the 7 essential tips for developing and writing a copyright compliance policy that works for your library and/or organization. You'll complete the webinar with ideas on how to initiate interest in your organization on creating a policy, the contents of your policy, and how to use it as an educational document to keep your copyright risks to a minimum.
If you're the Go-To Copyright Person or want to create some copyright guidelines/policy, the Copyrightlaws.com's Developing a Copyright Policy or Guidelines Online Course is perfect for you.
By participating in Copyrightlaws.com's course, you'll learn things like:
Why Your Enterprise Needs a Copyright Compliance Document
Simplifying Copyright in a Policy or Guidelines
Tips for Sensitizing and Educating Others
Attendees will receive a $50 off promotional code for the Copyright Leadership Certificate Program!
For 20 years, Copyrightlaws.com has been the go-to resource for copyright courses and education in plain English. Don't miss this opportunity!
Webinar Details:
Date: Thursday, September 5th, 2019
Time: 2:00pm – 2:30pm Eastern, 11:00am – 11:30am Pacific
Venue: GoToWebinar
Register on our webinar registration page, as there are limited seats available. You will receive a GoToWebinar invitation with instructions in a separate email prior to the session.
For more information on the Developing a Copyright Policy or Guidelines Online Course visit Copyrightlaws.com.
You can also Register for the September 2019 Copyright Leadership Certificate program on EventBrite.
Alone Together: Building a Community of Librarians
Soutron Global is pleased to sponsor and attend SLA San Diego's 2019 Fall Seminar. We invite you to join us for a "rewarding day of learning at the San Diego Chapter of the Special Libraries Association's annual professional development seminar. Registration is now open!"
Seminar Details:
Date: Friday, October 11th, 2019
Time: 8:00am – 4:30pm Pacific
Venue: Marina Village
1936 Quivira Way, San Diego, CA, 92109
Register today to secure your spot! Registration includes breakfast, lunch, and snacks with a view! Please email SLA.SD.FallSeminar@gmail.com with any dietary restrictions or preferences, including vegetarian and gluten-free.
"Often working in a "special" library can mean being the lone information expert in your organization or your specific role. The goal of this year's seminar is to bring together information professionals from disparate environments, backgrounds, and organizations to address the challenges this always changing, and sometimes strange, profession brings with it. How can we work together to create meaningful relationships and knowledge sharing practices to build your community of experts helping experts? How can we leverage our connections, resources, and skills to make our services more valuable and visible in our organizations? Let's gather together and learn from 16 colleagues representing 18 institutions and organizations!"

Courtesy of SLA San Diego
Check back soon for more upcoming events!
AALL 2019 Annual Meeting & Conference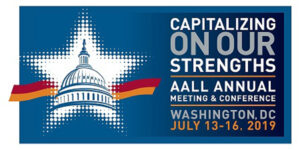 Soutron Global is pleased to announce our attendance at the 2019 AALL Annual Conference.
Connect with your peers to gain perspective only they can offer, and connect with providers of the tools and services to keep you at the top of your game.

– AALL 2019 Conference
The team will be in Washington, DC from July 13th – July 16th. AALL's theme of "Capitalizing on our Strengths" is a great way to celebrate innovators! It highlights the skills, talents, and attributes that provide added value to ourselves and our colleagues.
Join us at Booth #607 and say "Hello!" – we can't wait to see you there!
Seminar Details:
Dates: Saturday, July 13th – Tuesday, July 16th
Venue: Walter E. Washington Convention Center Washington, DC
Click Here to Register for the Conference.
For more information on the AALL 2019 Annual Meeting & Conference website.
SLA 2019 Annual Conference in Cleveland, OH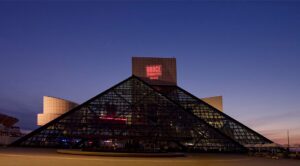 Soutron Global is pleased to announce our attendance at the 2019 SLA Annual Conference.
The Soutron Global team will be joined at our booth, #214, by our close friend and associate, Guy St. Clair, of SMR International during this year's Information Expo.
Guy will be honored on Sunday, June 16, 2019, with the John Cotton Dana award, SLA's top honor!
Visit our Booth #214 in the Information Expo for a Chance to Win and meet the man of the hour!
Seminar Details:
Dates: Sunday, June 16th to Tuesday, June 18th.
Venue: Huntington Convention Center of Cleveland
Click Here to Register for the Conference.
For more information on #SLA2019 visit SLA's Annual Conference website.
Did you miss seeing our warm up to #SLA2019 video? Fear not! You can watch our short video clip here.
Below are some pictures from the 2019 Annual Conference. Click on the Arrow buttons to peruse the Gallery or click on the picture to zoom in:
If you enjoyed these events, Click Here to see more Past Soutron Global Events.
Check back to find out what we will be attending next! You can also visit our Calendar for more information on future and past events or Contact Us.