Jun
18
Sun
SLA 2017 – Come see us in Phoenix, June 18-20th, 2017

@ Phoenix Convention Center
Soutron Global is pleased to announce its attendance at SLA 2017.  Phoenix is a great city and we're looking forward to some nice warm weather!
The SLA 2017 Annual Conference is the premier event for information professionals who want to develop essential skills, network with colleagues, explore noteworthy trends in knowledge and information management, and access leading information product and service providers at the INFO-EXPO.

Special librarians and other information professionals come together at SLA's annual conferences to network, learn best practices, and share ideas. SLA 2017 attendees will hear firsthand about the latest technological advances and innovations and discover how they can benefit from them and effectively implement them in their own organizations.
Stop by our booth (726) in the exhibit hall and say hello.  We look forward to seeing you!
As a special treat, we'll be running a raffle for copies of SLA Past-President Guy St. Clair's latest book:

Knowledge Services – A Strategic Framework for the 21st Century Organization.

These copies are personally signed by Guy St. Clair!
We're excited about the latest information on our Archive, Discovery, Portal, Skills Database and other solutions – ask us for a demonstration!
Dec
12
Tue
SLA Silicon Valley 2017 Holiday Party

@ Xanh
Dec 12 @ 5:30 pm – 8:00 pm

Soutron Global is pleased to sponsor SLA Silicon Valley's 2017 Holiday Party. We invite you to join us for a night of fun and festivities. Register Here to attend!
Holiday Party Details:
Date: Tuesday, December 12th, 2017
Time: 5:30pm – 8:00pm Pacific
Venue: Xanh, a modern Vietnamese restaurant
110 Castro St, in Mountain View
Registration includes dinner, dessert, and two drink tickets!
Feb
22
Thu
SLA SF – Artificial Intelligence Tools for Information Discovery

@ Stanford University
Feb 22 @ 5:30 pm – 9:00 pm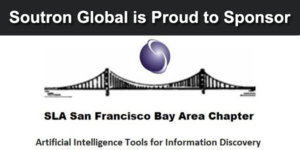 Soutron Global is pleased to sponsor and attend SLA SF – Artificial Intelligence Tools for Information Discovery. We invite you to join us to learn about artificial intelligence tools and their growing part information discovery toolsets. Registration is now open.
Seminar Details:
Date: Thursday, February 22, 2018
Time: 5:30pm PST Registration and Hors d'oeuvres, 6:30pm PST Program
Venue: Stanford University Bender Room, 5th floor of the Bing Wing of Green Library on the Stanford Campus
Register by Friday, February 16, 2018. Pre-registration is required. No on-site registration or drop-ins. Tickets are transferable, but not refundable.
For more information please click here