"When you have something precious, it deserves to be showcased."
Not every archive is the same. When choosing an archive solution from Soutron you have the freedom and flexibility to structure data exactly as you wish. Whether you have just a single collection or multiple collections, we can support you. If you use ISAD(g) standards to catalog content or follow your own style, Soutron delivers to your needs. Soutron Archive allows you to define relationships between records and have as many series and sub-series levels as needed. Your Collection will be structured and presented your way. Copyright and control over download materials are flexibly applied so you can protect your valuable data yet make it available to your user community.
Showcase Your Collection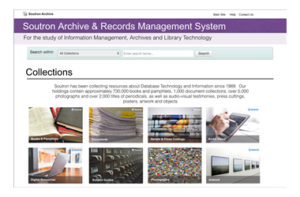 Soutron's Portal technology is designed to help you to showcase your work in the way that you want to without restrictions.
Because of the inherent design flexibility in Soutron, your archive system can be seamlessly embedded with any website or Discovery service and its page displays are mobile device friendly.
Some of the many features include:

Template driven to simplify data capture for books, journals, images, documents and audio-visual materials, online, eBooks – in fact you can create a template for more or less anything!

A common interface across all areas makes cataloging and indexing easy to learn and use

Responsive in design for mobile, tablet and desktop users

Fast capture of metadata from images, external sources, scanned files and electronic documents

Flexible database system to securely store everything in one place; from physical documents to embedded video to audio files.

Fast, accurate and simple search with facets and quick browse options

Relational attributes allow for cross-referencing of material

Request tracking and "Book-a-time to-view" for rare or valuable items

Full-text indexing of documents, PDFs

Support for extracting metadata from bulk file uploads – e.g. Exif data from photographs
Experts in Archives, Library and Information Management
Our expertise in database web technology comes from over 30 years of working with all types of archives, library and information centers.
Implementing a Soutron Global solution needs little or no involvement from your internal IT resources. We are your single point of contact for all your support needs. This makes it fast and simple to convert from your existing system.
Contact us today to see how Soutron Global can transform your archive.