Skills Database
"People Connections are as equally important as Resource Collections. When assessing know how and implementing a knowledge services strategy don't ignore the benefits of managing your internal Knowledge Sharing."

Guy St Clair, President, SMR International and Knowledge Management Expert
The Soutron Skills Database provides for the easy capture and codification of internal staff skills along with external partner expertise. Now you can capture technical skills, project-related skills, hidden talents and expertise which allows for the:
Continuous knowledge capture of user skill and expertise profiles
Establishment of the first phase of a Knowledge Management (KM) cycle
Quick identification of internal & external resources
Easy set-up of Communities of Practice (CoPs) with grouped, cross-referenced skills
Rapid creation of high-performance teams
Designed in conjunction with a global research and consulting firm to make it easy to identify skills and gather expertise information, this highly configurable and scalable knowledge transformation solution can be operated standalone, tightly integrated into a Soutron Knowledge Portal installed behind a firewall on premise or provided as a service with security and access controls.
The Soutron Skills Database makes it easy for organizations to capture and codify information about staff and people in your industry, the first step in the KM cycle (Dalkir, 2005)* which enables the creation of high-performance teams: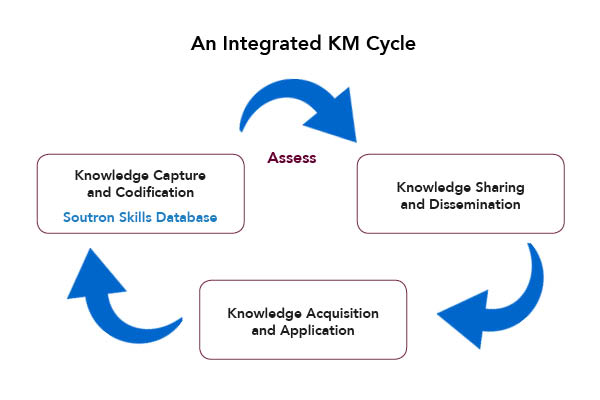 * Dalkir, K. (2005). Knowledge Management in Theory and Practice. Massachusetts: Elsevier Inc.
Easy Knowledge Portal Set-up and Integration
Offered standalone or web-based, the Soutron Skills Database integrates tightly into Soutron's diverse library, knowledge, and information man-agement solutions, enabling any library or infor-mation center to easily enhance their knowledge management/knowledge services (KM/KS) with secure skills and expertise identification services.
High Performance Team Creation
The Skills Database comes complete with a Forms Designer that takes advantage of the inherent flexibility of the Soutron solution to provide easy data customization for identification of diverse industry skills, from hotel management skills to construction skills to medical skills and more.
Due to the ability to easily create user profiles to support specific needs, any type of information can be added, grouped and ranked including:

Education and qualifications

Languages

Skills and levels of expertise

Projects that have been worked on

Team compatibility

Technical Research projects

New product ideas

Social media links

Projects worked on
This knowledge codification provides for the creation of a custom hierarchical taxonomy consisting of indexed structured information that creates an internal knowledge directory to help organizations find, using advanced built-in search or browse facilities, the right internal and external resources to share and collaborate with. User profiles can be updated by either the user themselves or an administrator.
For managers who are looking to create high performance teams to address winning business or delivering a solution or service, the Soutron Skills Database can quickly pinpoint who might work well together internally, make it easy to set-up domain knowledge-based CoPs, and help to avoid going outside the organization when expertise exists within.
Contact us today to see how Soutron Global can transform your skills inventory.